Applying for a Library Card is simple and takes only minutes!
What can you get with a Library Card? Not only do you get full borrowing privileges for over 100,000 books, 120,000 eBooks, and thousands of audiobooks and movies, but also access to over 30 databases, homework help, magazines, newspapers, test prep, and genealogy resources. And don't forget that we have an entire Create It! makerspace dedicated to technology and crafting!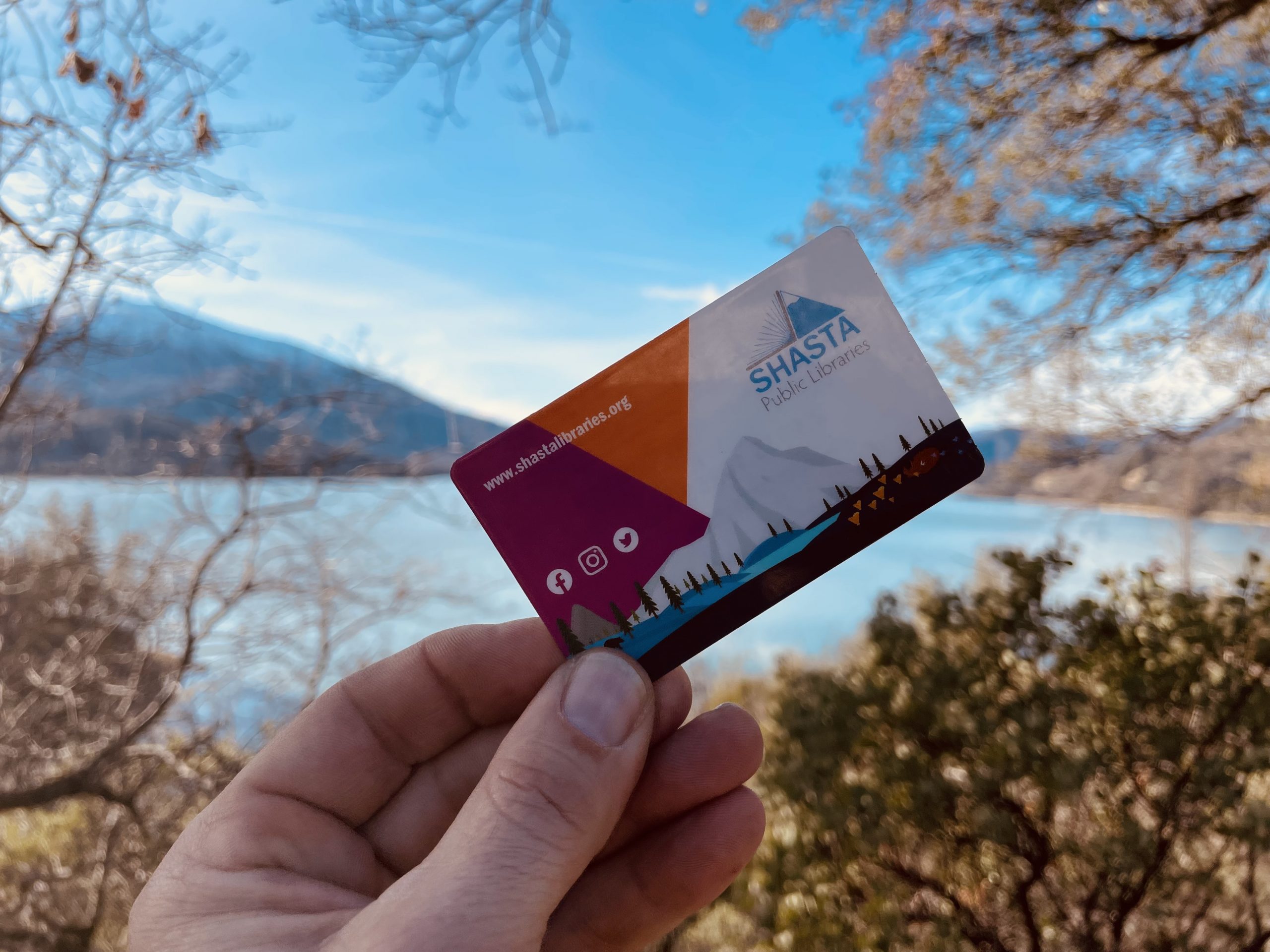 Any person residing, owning property, or employed in Shasta County is eligible for a Shasta Public Libraries card and, therefore, may borrow materials free of charge from the Redding, Anderson, and Burney Libraries. The privilege of obtaining a Library Card will also be extended to individuals residing in any City and/or County of the State of California.
1. Fill out the online application.
This application asks for: legal name, street address, phone number, and email (optional).
2. Write down the temporary barcode. (PACREG with a series of numbers)
This code and your PIN will give you immediate free access to the library's electronic resources, including eBooks and eAudiobooks.
3. Come into the Library.
Stop by one of our Library branches to confirm your identification and residency. Minors under 18 must appear with their parent or legal guardian.
You will need:
Photo Identification — this includes a Driver's License, Identification Card, Passport, Military ID, etc.
Proof of current permanent address — this includes a current post marked mail or a utility bill with applicant's name and address,  mortgage agreement, etc.
Paper Application
If you are having problems with the online application feel free to print out one of the applications below, fill it out, and bring it in.
Types of Cards
Full-Service Card
A Full-Service Card gives you complete access to all of the Library's services, both physical and electronic. All library cards are valid for 3 years at a time in order to keep your contact information up to date.
Adult Card
Adult Cards are for ages 18 and older, have access to all of the Library's services, and can request Zip Books.
Juvenile Card
Juvenile Cards are for minors under 18. They give children and teens autonomy to check out their own materials and allow them access to the youth computers.
Limited Access Card
Patrons who do not have the required documentation for a Full Access Card may qualify for a Limited Access Card. This gives you access to all electronic resources and 2-physical items to check out. Patrons can upgrade to a Full Access Card at any time by providing the required documentation. 
Temporary Card
The temporary barcode you receive after applying online will give you immediate access to electronic materials. To turn it into a Full-Service Card, simply stop by one of our three branches with your ID and proof of residency.
Internet-Only Card
Regular patrons who are between residences or don't have proof of residency can get Internet-Only Cards that allow them access to our public computers.
Guest Pass
Just passing through and need to use the computers? We have temporary guest passes available at our customer service and reference desks. All you need is your ID.
Lost Card
Stop by one of our branches with your ID to get your Library Card number.
Replacement cards are only $1.