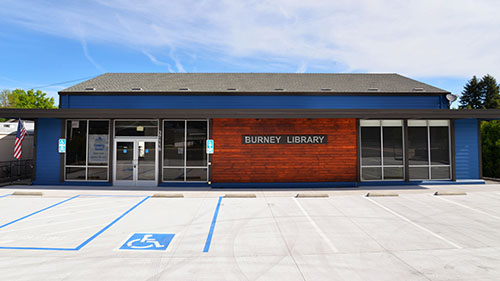 37116 Main St. | Burney, CA 96013
askus@shastalibraries.org
Your Library, Your Way
Burney Library is thrilled to be more available to early birds, families, remote workers and all Library lovers! This project was supported in whole or in part by funding provided by the State of California, administered by the California State Library.
Use Burney Access to:
· Pick up materials on hold
· Access the collection
· Use Computers, printing and Wi-Fi
What is Burney Access?
Use the Library when it works best for your schedule. Gain access to the Burney Library before regular operating hours to use Library Wi-Fi, computers, printing services and access to the Library collection.
Who can sign up?
Any patron with a Shasta Public Library Card in good standing can register for Burney Access.
When is Burney Access open?
SUNDAY:Closed
MONDAY: 8:00 AM – 2:00 PM
TUES – SAT: 8:00 AM – 11:00 AM & 1:00 PM – 2:00 PM
*Regular Service Hours 11:00 AM – 1:00 PM & 2:00 PM – 6:00 PM
Why is Shasta Public Libraries offering this service?
This service is being offered to provide increased access to the Burney Library. This is in an effort to accommodate the Burney community by providing more access to the public Library.
Rules for Participation:
You are an adult (age 18+) with a current Shasta Public Library Card in good standing.

Customers younger than 18 must be accompanied by an adult with Burney Access.

Approved Burney Access is not transferable and is not to be shared with unapproved users.

Registered Burney Access customers may not open the library to non-registered customers.

Burney Access hours are unstaffed.

Burney Access hours are 8:00 AM – 2:00 PM Monday and 8:00 AM – 11:00 AM & 1:00 PM – 2:00 PM Tuesday – Saturday  and are subject to change without notice.

The exterior and interior of the library are monitored by security cameras.

Staff areas are prohibited from access.

I accept responsibility for the space, equipment, and furniture during my access time.

In case of an emergency, I will call 911.
•  The Library reserves the right to update this policy at any time without notice.
Friends of the Intermountain Libraries
Want to make a difference at your library?