The Redding Library has a whole area devoted to genealogy with bound volumes, online resources, periodicals, newspapers, and microfilm. Two computers are devoted to genealogy and devoted volunteers are available to assist you with genealogy and family history research.
Need more information? Call the reference desk at (530) 245-7252.
Resources in the Library
1500+ Genealogy Collection (view in Catalog)
2000+ Local History Boggs Collection (view in Catalog)
Periodicals, including Covered Wagon (local history; yearly 1943 – current)
Family Search  All three Shasta Public Libraries are affilliate libraries with Family Search. This means all copyrighted online resources are available at the library.
Shasta County Newspapers (microfilm: from 1852-present)
Ancestry Library Edition (accessible in library only)
Find census, birth, marriage, death records, and more in this extensive online database.
Genealogy Computers: Two dedicated computers to use while searching genealogy.
Online Resources
Online Newspaper Database — NewsBank (need a library card)
Old Shasta County Newspapers
We have a comprehensive collection of Shasta County's major newspapers starting from 1852 on microfilm. From that time, newspapers have merged three times to bring us to the current Redding Record Searchlight.
See when our major newspapers existed, and how they have merged over time: Shasta Newspapers
Genealogy Help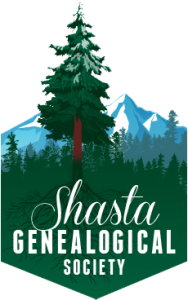 Members of the Shasta Genealogical Society are available to assist you with your family history questions and research. This is a drop-in session, no reservations required.
Location
Boggs/Genealogy section of the Redding Library on the 2nd floor.
Hours
Wednesdays: 1pm – 3pm
Appointments
Call the reference desk at (530) 245-7252, with your name, number, email, and area of genealogical research.
The Shasta Genealogical Society will get back with you to set up an appointment.
Placing an Obituary Request
Other Genealogical Resources