Earn an Accredited High School Diploma
Free Through Your Library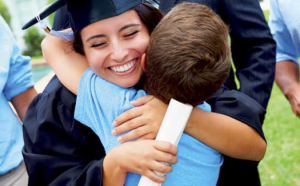 Shasta Public Library's Career Online High School (COHS) offers adults the opportunity to earn an accredited high school diploma and a career certificate. You can advance in your career or take the next step in your education once you graduate. The Library supports you from enrollment to graduation so that you can achieve your goals.
Career Online High School is made possible with support from the California State Library.
The Library is offering a limited number of free scholarships to qualified adults. Learn more about the program, process and courses.
Applicant Requirements
To be considered for the COHS program, applicants must:
Be 18 or older
Be willing to spend at least 10 hours a week on coursework
Be comfortable reading, writing, and speaking in English
Be comfortable using technology
Have a library card in good standing
Ready to Get Started?
Step 1: Read the Frequently Asked Questions About Career Online High School
Step 2: Then take the Online Survey to see if Career Online High School is a good match for you
Step 3: The Shasta Public Library will contact all eligible applicants (within one week) to do a phone screening. Prospective students will then enroll in a one-semester prerequisite career course. Check your email for instructions. After you enroll, you must complete the prerequisite course within 14 days and keep track of your hours
Step 4: Once you successfully complete the prerequisite course, the Library will contact you to schedule a personal interview
Step 5: Successfully complete probation period within 30 days in order to keep your scholarship. After completing probation, all students must complete at least 2 semesters every month until they have completed all 36 semesters required for graduation
Interviews and scholarships will be offered on a first-come, first-qualified basis. Enrollment is limited and demand is high. You may be placed on a wait list until additional scholarships become available.