In 1903, the Redding Carnegie Library opened at 1527 Yuba Street to give public library service to the city of Redding. In 1948, a ballot measure was approved to establish a Public library. Service commenced August 1, 1949, using the Carnegie Library building.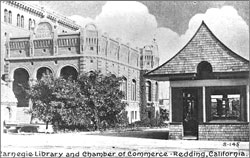 The Public Library System grew at a rapid pace with library branches being established at various locations throughout the County. In 1962, the new Shasta County Library, Redding Headquarters, was opened. During the period of 1962 to 1976, four branch libraries were constructed: Anderson, Burney, Enterprise, and Whitmore. New construction also doubled the space at the Redding branch. At its peak, the Shasta County Library consisted of over twenty branches.
In 1987, ten branches were serving their local communities. These libraries were forced to close between October 15, 1987, and June 30, 1989, due to lack of funding. The Redding and Anderson libraries reopened January 30, 1989, and the Burney Library reopened March 1, 1989.
1999 was a pivotal year for the library. In March, the SIRSI automated circulation system and the SHOCAT online library catalog were first used in Shasta County. On August 1, a gala open house was held in the headquarters library in Redding to celebrate the library's 50th anniversary.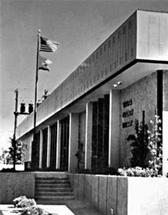 In mid 1999, Carol Salini, a retired staff member and Friends of the Shasta County Libraries board member, secured five-year pledges totaling $68,000 from individuals and businesses, and lobbied City and Public Officials to enter into partnerships with the Friends to increase open hours in the Redding, Anderson, and Burney libraries. Redding hours increased from 33 hours per week to 61 hours per week, Anderson hours were doubled from 20 hours per week to 40 hours per week, Burney hours increased from 20 hours per week to 30 hours per week, and a youth services librarian was hired by the end of the year.
Early in 2000, the Bill and Melinda Gates Foundation granted the library computer workstations for each branch and an eleven station computer lab for headquarters. Existing Internet service was enhanced with the addition of a variety of computer software and updated computers. The computer lab was used for staff training and free computer workshops for the public.
Library automation advanced to the next level in February of 2001 with the installation of WebCat and iBistro software which allowed for remote patron access to library resources and provided enhanced catalog records.
The New Redding Library
In 2007, the new main library in Redding opened at 1100 Parkview Ave., funded by a state grant and matching funds raised by Shasta County citizens.
The new library has many interesting architectural features including a vegetated green roof, thermal energy storage, and a photovoltaic system.
The library's vision for the future is a dynamic library which fulfills the information needs of all citizens of Shasta County. The Redding Library includes an extensive children's area and garden, a dedicated teen area, a local history section, a variety of meeting rooms, and a fully-equipped Create It! makerspace. The library partnered with the Shasta Genealogical Society to house the local history book collection.
The New Burney Library
The original Burney Branch Library opened in 1949, the first of the Shasta County Library Branches. A new home was built in 1969 on Siskiyou Street, where it remained until July 31st, 2020. Through hard work and dedication, the Burney Library has been able to move into a larger building on Main Street which opened on August 15th, 2020. Here new stories will be told by a community that has worked so hard for many years and will finally see their long-awaited dream come true.