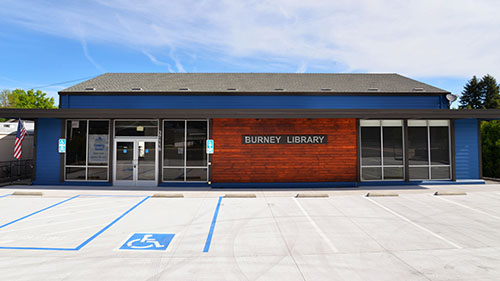 37116 Main St. | Burney, CA 96013
askus@shastalibraries.org
Your Library, Your Way
Burney Library is thrilled to be more available to early birds, families, remote workers and all Library lovers!
Use Burney Access to:
· Pick up materials on hold
· Access the collection
· Use Computers, printing and Wi-Fi
What is Burney Access?
Use the Library when it works best for your schedule. Gain access to the Burney Library before regular operating hours to use Library Wi-Fi, computers, printing services and access to the Library collection.
Who can sign up?
Any patron with a Shasta Public Library Card in good standing can register for Burney Access.
When is Burney Access open?
SUNDAY:Closed
MONDAY: 8:00 AM - 2:00 PM
TUES - SAT: 8:00 AM - 11:00 AM & 1:00 PM - 2:00 PM
*Regular Service Hours 11:00 AM - 1:00 PM & 2:00 PM - 6:00 PM
Why is Shasta Public Libraries offering this service?
Burney Access extends the Burney Library's hours of operation and access for 27 hours a week to ** hours a week so anyone who wants to access the Library can at their conventions.
Rules for Participation:
<INSERT HERE IN SIMPLE, BULLETED FORMAT> Conference and meeting rooms will not be available.
Friends of the Intermountain Libraries
Want to make a difference at your library?