Save Money & Energy in Your Home
Visit your library and — just like a book — check out the new Do-It-Yourself (DIY) Home Energy Saving Toolkit from North Valley Energy Watch. It's stocked with supplies and measuring devices that will help you lower your utility bills while saving precious resources.
Anyone with a valid Shasta Public Libraries card can check out a Toolkit for up to 3 weeks. Toolkits are available at all three branches: Redding (4 kits), Anderson (1 kit), and Burney (1 kit).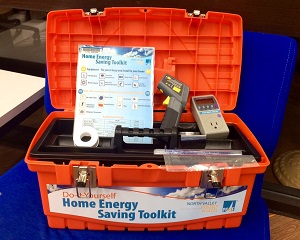 What's Inside
When you check-out a kit, you get to keep the LED light bulbs, faucet aerators, low-flow shower head, outlet gaskets, weather stripping, water nozzle, and water leak detection tablets.
Devices that enable the measurement of energy and water use are to be returned to the library in the Toolkit box, including the:
Kill-A-Watt® Meter for measuring the energy use of appliances and equipment
Thermal detector that checks for heat loss through windows, vents and doors
Special thermometer that helps set refrigerators and freezers to appropriate temperatures
Water flow rate bag that measures the true rate of flow from faucets and shower heads
The toolkit includes a user guide with step-by-step instructions for measuring and reducing energy use, as well as links to instructional videos.
Please note: you will also need to sign a waiver and an agreement form upon checkout.
More Information
If you have questions about the toolkits, please contact the library at (530) 245-7252.
This project is funded by California utility and administered by Pacific Gas and Electric (PG&E), under the auspices of the California Public Utilities Commission. The North Valley Energy Watch is a joint project of Northern Rural Communities, Inc. and PG&E.